Silicon Steel Annealing Line
The silicon steel annealing line supplied by the company can produce non-oriented electric steel of low and medium grade and process cold roll electric steel coils in continuous horizontal annealing and coating sequences.
The production line consists of uncoiler, welder, shear, annealing furnace equipment, coating equipment, water rinsing and alkali cleaning equipment, looper, steering and deflector roll, squeezing roll, bridle roll, coiler, hydraulic system and electrical automation control system, etc. Additionally, water quench cooling device can be provided if required by the process to enhance cooling efficiency and shorten the cooling section.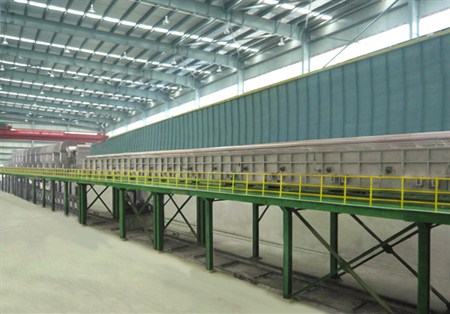 Main characteristics
The recrystallization annealing, decarburization and coating sequences are designed in the same continuous production line to save land required by equipment arrangement, intermediate handling and storage, and reduce energy consumption;
The strip is cleaned by combined alkali cleaning and alkali brushing process where magnetic separator is installed in the alkali circulation system to get high quality cleaning effect and clean strip surface free of oil;
Except soaking zone which is heated by resistor, all the other zones of annealing furnace are heated by coke oven gas and the furnace is full of protective atmosphere which can effectively protect strip from oxidization and facilitate decarburization;
The NOX furnace is equipped with air preheated type burner to realize NOX heating by controlling the excessive air coefficient; in the fume exhausting system is installed a heat exchanger to recover waste heat for preheating combustion air and saving gas;
In recirculation protective gas jet cooling section, a 5-passes long cooling section of converter controlled is designed to ensure flexibly adjustment of production process and good strip shape;
At the entry of furnace section, an emergency tension releasing device is provided to rapidly release strip tension inside the furnace in case of emergency to prevent strip breakage inside the furnace;
The shear at the exit of the line cuts the strip continuously at threading speed to minimize stop time and improve production efficiency;
The drive is controlled by digital vector VVVF speed regulation system and the process flow is controlled by computer system via friendly HMI;
The whole process flow and product quality get fully supervision by means of thickness gauge, thermometer, dew point meter and tensiometer, etc.
Technical data
Products: non-oriented electric steel of low and medium grade
Typical grade: medium grade: 50W470~50W600;
low grade: 50W800~50W1300 (65W1600)
Silicon content of strip: ≤1.5% (max. 2.4%)
Strip thickness: 0.35~0.65mm
Strip width: 750~1275mm
Coil inside diameter: ф610/ф508mm
Coil external diameter: max. ф2000mm
Coil weight: max.25t
Line speed (max.): Entry: 240m/min Exit: 240m/min
Process: 180m/min
Conventional process flow