Strip Degreasing Line
The strip degreasing line serves for degreasing (chemically and electrolytically) and loosening coil, etc. It includes chemical degreasing, electrolytic degreasing, water rinsing and drying process etc. with cold rolled hard plain carbon steel, high quality carbon structure steel and low alloy structure steel as incoming materials which size from 400~1250mm×0.1~1.5mm. Two types arrangements are possible, i.e. horizontal and vertical, of which the process speed is 240m/min max.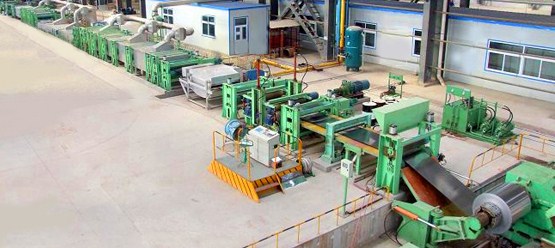 Main characteristics
Advanced and practical combined cleaning process, i.e. chemical degreasing + electrolytic degreasing, resulting in good degreasing quality;
Three stages of cascade water cleaning characterized by good cleaning effect;
Installation of high quality automatic welder made in China, which can ensure normal production of the line;
Adoption of imported EPC device, which can ensure desired product coiling at line exit;
Provision of VVVF drive control system with friendly man-machine interface, allowing easy operation and maintenance.
Technical data
Annual output: 70,000~200,000 t/a
Material: cold rolling carbon steel, low-carbon deep drawing steel
Typical grade: Q215、Q235、10、20、16Mn、08Al etc.
Yield maximum: max. 350N/mm²
Strip thickness: 0.1~1.5mm
Strip width: 400~1250mm
Coil inside diameter:ф610mm
Coil external diameter:ф900~1900mm
Coil weight: max. 25t
Process speed: max. 200m/min
Threading speed: 30 m/min
Normal acceleration/deceleration: 15m/min/s
Quick stop deceleration: 30m/min/s
Conventional process flow